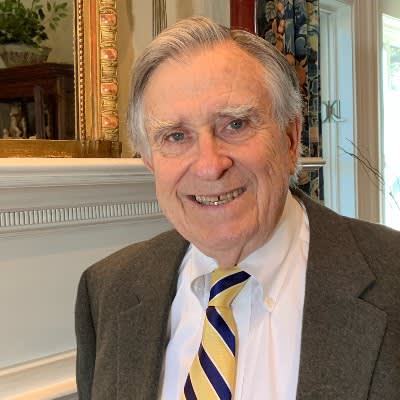 Bar Admissions
North Carolina, 1968

U.S. Court of Appeals for the Fourth Circuit, 1976

U.S. District Court for the Eastern District of North Carolina, 1970

U.S. Bankruptcy Court, 1972
Education
J.D. - University of North Carolina School of Law, 1968

North Carolina Law Review

A.B. - University of North Carolina at Chapel Hill, 1962
Professional Associations
North Carolina Bar Association

Member, 1968 to Present

Bankruptcy Section

Founding Member

Past President

National Association of Bankruptcy Trustees

President, Eastern Bankruptcy Institute

Judicial Conference of the Fourth Circuit
Pro Bono Activities
St. Johns Episcopal Church, Lay Eucharist Minister

St. Johns Episcopal Church, Senior Warden

St. Johns Episcopal Church, Vestry Member

New Hanover County Republican Party, Past Chairman
Biography
Algernon L. Butler, Jr. is a partner in the law firm of Butler & Butler LLP.
Education: Mr. Butler attended the University of North Carolina at Chapel Hill where he earned his undergraduate degree (A.B. English 1962) and, after serving as an officer in the U.S. Navy, received his law degree (Juris Doctor) in 1968. While in law school, he served on the staff of the North Carolina Law Review. He was admitted to the North Carolina Bar in 1968.
Professional Certifications and Associations: Mr. Butler has been a member of the North Carolina State Bar and of the North Carolina Bar Association since 1968 and was a founding member of its Bankruptcy Section. He has served as President of the Bankruptcy Section and was on the initial committee that established the guidelines and qualifications, and obtained approval of N.C. State Bar, for legal specialization in the field of Bankruptcy Law in North Carolina. Mr. Butler has been a member of the National Association of Bankruptcy Trustees since 1988 and is currently President of the Eastern Bankruptcy Institute. He has written articles and served as a speaker at numerous seminars and institutes on bankruptcy law and procedure. He is a permanent member of the Fourth Circuit Judicial Conference and is admitted to practice before all North Carolina Courts, the United States Bankruptcy Court (EDNC), the United States District Court (EDNC), and the Fourth Circuit Court of Appeals.
Community Involvement: Mr. Butler is actively involved in the community in Wilmington, North Carolina. He is a member of St. Johns Episcopal Church where he has served as a Lay Eucharist Minister, Senior Warden and Vestry member. He is past Chairman of the New Hanover County Republican Party.
Practice Concentration: Mr. Butler regularly represents and advises individuals and business entities in all aspects of asset protection, debt management, pre-bankruptcy planning, and the conduct, administration and management of bankruptcy cases at all stages under all Chapters of the Bankruptcy Code. His representation includes individuals and corporations under Chapter 7, and those reorganizing or liquidating under Chapter 11. He is experienced in representing Chapter 13 individuals in their financial planning, plan development, reorganization and post-confirmation activities. Mr. Butler is equally experienced in advising and representing creditors under all Chapters and at all stages of the bankruptcy process, including claims filing, stay relief, adequate protection, plan treatment and avoidance defense. His creditor clients include individuals, financial institutions, corporate entities and governmental taxing authorities. He regularly is retained by other attorneys to handle or assist in handling bankruptcy litigation and contested matters and often is retained to advise in business and bankruptcy-related matters. He has experience as both a trustee and as a bankruptcy examiner in complex Chapter 11 cases. He has been an active member of the Chapter 7 Trustee Panel for the Eastern District of North Carolina since 1982 regularly administering cases and handling the contested matters and adversary proceedings resulting therefrom. He has been appointed and has served as a Federal Receiver regarding the pre and post-judgment management, preservation and collection of assets under the Federal Debt Collection Procedures Act.